Båter
Styvehavn har to båter som brukes til sjøbunnskartlegging og inspeksjon.
«Målestråle» er en 23 fots hurtiggående arbeidsbåt med hjemmehavn i Fredrikstad. På sjøen dekker vi fra svenskegrensa til Sørlandskysten, inkludert Indre Oslofjord. Målestråle kan også fraktes på henger eller lasteplan.
«Ekko» er en 17 fots overbygget plastbåt som fraktes på båthenger. Den egner seg i skjermet farvann, elver og innsjøer og kan enkelt sjøsettes på en rampe eller en strand.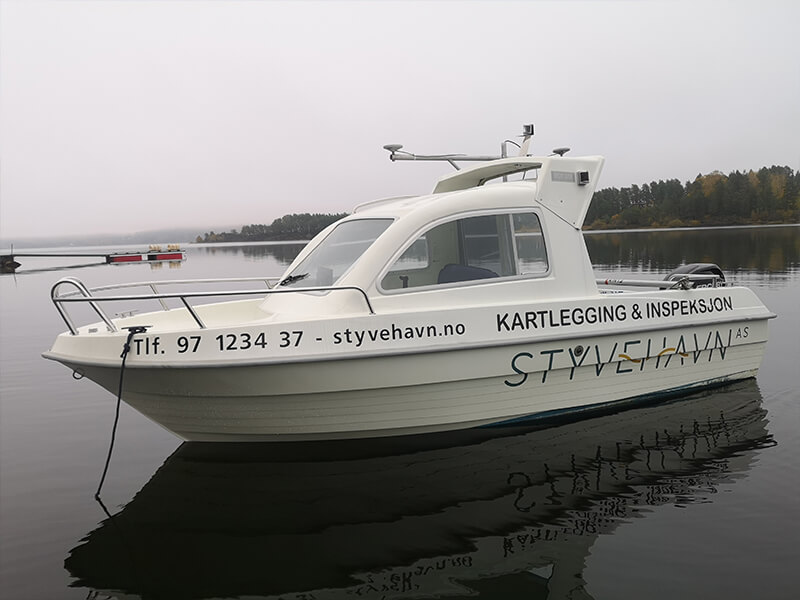 Vårt utstyr er mobilt, og kan ved behov pakkes for transport og mobiliseres på en hvilken som helst passende båt for anledningen. For utfordrende prosjekter finner vi de gode løsningene:
Med el-motor kan vi kjøre på små vann med restriksjoner mot motorisert ferdsel
I områder med vanskelig tilgang kan vi benytte båt som kan bæres av to personer
Ved fare for personskade kan vi fjernstyre båt og datainnsamling fra land
Spørsmål?
Styvehavn gjør kartlegging med multistråle ekkolodd, som gir heldekkende datasett med et stort antall målepunkter og god presisjon.